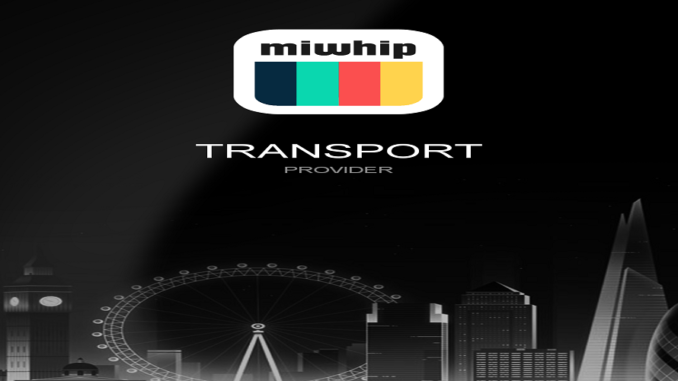 Miwhip is just about to launch. As one of the new players that bring more competition in the capital, the Londonian firm is very close to start its operations.  And the plans of the company are very ambitious. To be a true competitor to major ride-hailing app actors like Uber and ViaVan. Indeed, its zone of action will be in Greater London including airports.
Driver App London had the chance to meet with one of its founders, Nohman Ahmed, for an exclusive interview.  That was unique occasion to know a little bit more about the firm's background and ethos, product content, intentions and plans of action.
Driver App London- What led you to create miwhip?
Nohman Ahmed- We have set up several successful companies, which today are globally recognised & awarded. As business competencies, we hold expertise in Lifestyle & Fashion, Product Development & Manufacturing, Logistics & Supply Chain Management, Management Consulting, Marketing & Branding, Technology & Retail. So, I believe it's safe to say although we are new to the market, we definitely are no strangers when it comes to the world of business.
For us the main motivation for miwhip was our late father. Our father was a PHV driver in London. He was really hard working. He did not have a formal qualification. But being a PHV driver allowed him to support his family. It allowed him to have a work life balance. We used to wake up every morning he was there. He picked us from school and then got back to work and did whatever the day & his family needed from him to do, as the leader and main bread winner of the household. That flexibility as we were growing up was quite important. My dad was always around but he was able to work when he wanted to. There are many hard working fathers like that. People who struggle with work life balance.
More importantly, he was able to provide for us. We had a good life growing up. He worked hard and this profession allowed him to tailor his life. We used to know his bad days and good days. We used to know his pattern. Subsequently, he passed away unfortunately. And not a single day goes by that we do not think of this man, who gave us the ability & opportunity to do all we do, hence it seems only right that we use our business capabilities to honour this very special man and honour his cause.
This is for all fathers out there who we know face similar situations. So we wanted to dedicate this business to him. Because there are many drivers out there that work as much as my father. We wanted to create a platform with real benefits to drivers.
How are you going to differentiate yourselves in what you offer to drivers?
Although we are a technology company, we're a people organisation first. It's about humanising the technology. That's what will connect to users and make us approachable and relatable. It's actually an ethos of our company, across all our departments.
For drivers, we're looking at the key benefits that they need in current economic climate. Our commission rate is at 15%, one of the lowest in the industry right now. It is not an introductory offer, it is for life. No hidden charges. We also offer a daily pay out feature. This benefit actually relates to my father, as he used to have his payment in hand after every working day. After doing a long day of work, you might want to have access to that money. There will also be no minimum working hours on the platform.
When we use the term flexibility, there's no small text to go with it. However, to ensure the safety of all our users we do have a place a maximum of 10 hours working on the platform in one day. This lets us know our drivers aren't been overworked in any one day. We also have a 24 hour support line that is based in London. All our staff and team are based in London. Our head office is in London. It is important for us to engage with the drivers on a platform that is going to be always accessible. At the end of the day, drivers want to earn money.
We have our 'ordinary' ride hailing services… and then we have our 'extraordinary' twist to our model. This model is there to help drivers get more rides, as any lottery mechanism encourages consumers to engage. Of course, our engagement model is clear, however exciting, value driving and will encourage more riders to our platform which in turn shall create more trips for the drivers.
We are also concentrating heavily on Marketing, both on shore and off, encouraging tourists to use miwhip. Again, that is more trips for the driver. Finally our delivery model consists of both fixed employment and self-employment; offering that flexibility or sustainability depending on driver preference.
You said that you are going to launch in January. Do you have a definite date? Will it be the 1st of January or later?
We will be announcing the exact date in the coming few weeks. As a technology company, we want to make sure that our infrastructure and more importantly our security is where we want it to be. We have been working on it for the past 19 months. We are comfortable to set a launch in early 2019. The exact date will be confirmed very soon.
It will be a very happy New Year for all London!
We wanted to create a platform with real benefits to drivers.
You said that you expect to have 10,000 drivers by the end of next year. How are you doing in terms of recruitment?
We are on Target and have met our first quota. By the mid of 2019, we aim to have met our target of 10,000 drivers.
Our driver recruitment model actually is two fold. We wanted to give our drivers the choice to be self-employed or employed by miwhip. Everyone has a different preference in terms of how they like to work; we wanted to offer both options to our drivers. Marketing campaigns will continue through this month. We are in a good pace.
We were just granted our TfL licence in October. From that point our activity has been boosted. Before then, we were recruiting drivers but now we have a quite intensive marketing campaign. People will see us all over London through advertisements on billboards, Radio, London Underground and Social Media.
Do you have any clear policy about your rates?
We're in line with the market rates.
Uber has got surge, ViaVan rockets, anything similar on your side?
It is called 'RUSH' to respond to a demand for rides during peak times. This will be available to ensure that those who require a ride can get access to one. All riders will be notified of a 'RUSH' in the app.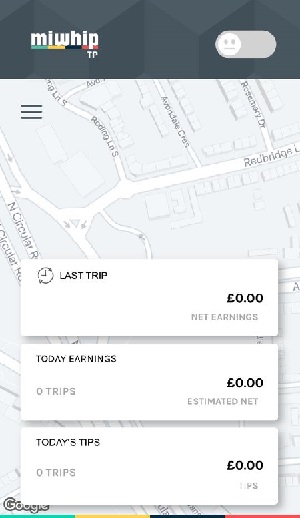 Uber started giving incentives and promotions to drivers. Have you got any incentives and promotion with miwhip?
We are looking into a promotion for drivers who signed up early. We've recently introduced a 7.5% commission scheme for drivers who on-boarded successfully before the 15th January. This will be activated for the first three months of our operation.  The level of service and dedication to our platform is very important.
There will be reward schemes which will reward our drivers and transport providers. More importantly, we have self-employed and employed drivers in our company. So, we have a fleet of our own cars made of smart cars and other super cars. Drivers who constantly give a high level or service will be offered a position in terms of employed drivers.
Who is going to drive these supercars?
Safety is very important. All super car drivers will be employed by us. There will take an advanced TfL approved training course. This is to make sure that they are used to the vehicle. We want to ensure that our customers in super car are with a qualified driver. That is important for us. The service has to be a high level service. Once they pass the advanced course, they will be able to drive a super car.
We've recently introduced a 7.5% commission scheme for drivers who on-boarded successfully before the 15th January.
How many supercars do you have?
We have a range of luxury and supercars, and continue to build the fleet as we speak. We currently have a variety of Lamborghinis, Ferraris, Rolls Royces, & McLarens. We want to maintain our pledge that is to have 1% of super cars among all cars. With 10000 drivers, there will be 100 super cars by mid-2019.
Among your super cars there are vehicles with two doors and smart cars. Won't you face any issue to license them?
The use of smart cars as being PHV licensed has been approved. These are for single riders, in the city… mainly for the city workers. We are looking at emission rate and the congestion issue. We want to ensure that our fleet move to hybrid/electric vehicle. Also, our fleet non electric will be euro 6.
So, there won't be any issue to license a smart car?
No. But we must state that these smart cars are to be used by our own employed drivers only. The miwhip platform will not accept self-employed drivers who want to drive using their smart car.

You have done a lot in order to recruit drivers. You want to launch in January. What about your campaign to get and attract customers?
Our press release was announced just last week. We had a press release announcing the content to the general public. The rest of this month (December 2018), people will see the rest of our campaign rolling out. We want customers to realise that it is an exciting concept as it involves super cars. But most importantly, the gold supercars don't have us. We have the gold supercars.
This is a serious business. It is not only about super cars as we offer 15% to the drivers and 5 pounds rides in zone 1. This is a competitive market and we've understood it. We have done a lot of research within the market. Based on the feedback from the customers and drivers, we believe that we have identified every kind of problem statement and proposed a solution with the wide range of services & benefits.
We are offering a real benefit to transport users. Our services were created fit for every type of Londoner. We know central London can be expensive; hence we introduced the mione for our city workers. We've also got miwhip+ as a vehicle category for families and extra baggage. miexec/milux are for those who enjoy conform and luxury travel. miwav is also for riders who require wheelchair access. And finally, the supercar fleet is there to add a little extraordinary magic to someone's ordinary routine. Miwhip will soon become a new and iconic London experience.
We know that the driver app is ready. Is your customer app finalised and ready to go?
The rider app is finalised. It is available to download on iOS & Android.
Does your app offer any features that we should know about?
Drivers can select their home destination after a days work and will still get jobs on the way to his/her house. The feature is called a Destination Filter. For example, if you decide to go home or to go specific destination, the app will only inform the driver of trips that are available on his/her route. It is quite a big benefit. It's about creating a service that caters according to your routine, not the other way around. It is all about flexible work.
For riders, we have a local attractions feature based on their location. For example, if a rider wants to go to the nearest premium Chinese restaurant, they will just have to click on the in-app map to find the address. It's a great feature for the tourists, as the app will suggest the top 10 things to do in London and direct users to it. We understood the challenges for both drivers and riders. We are constantly working on the app to review and attach updates. We need to remember that this is going to be the first version of our app.
Our developers are constantly going to be working on new features based on feedback from drivers and customers. Updates will constantly be added.
With Uber, the destination feature can be used twice a day. How many times with miwhip?
To start with, we're going to be letting drivers use their destination filter up to 5 times a day.
Some drivers met few technical difficulties to register through app. Any update?
We've actually introduced a new app registration process for our transport providers. It's simply made things easier. New sign-ups only have a 5 step process, which takes less than 5 minutes. All you need in your personal details, your driving licence at hand, and your vehicle registration plate. Then you're ready to visit on of our nearest hubs located in both west & east London.
Here, you're expected to bring all original documentations for verification & compliance checks. An additional security measure we take in to check the quality of the vehicle you chose to drive with miwhip. This ensures all our transport providers are at onboarded according to our company standards as well as ensuring the safety & conform of our riders.
What are your long term plans?
We just did not want to be another successful mini cab app. We want to give unique benefits to both customers and drivers which we believe we are doing. We want to provide an iconic service within London. And we want to be really influential so that when people think about London, they think about our services. There are many iconic things in London like the red telephone box or post box. We want to be iconic so that people say "we have used miwhip in London and it was amazing".
We want drivers to think that they have got more money in their pockets with the same flexibility and the daily pay out. That is very important for us as our drive was to dedicate this to hard working individuals both males and females. Those people work hard even if some people might think that driving in London is an easy job. It is a really difficult job and people do not really understand. We want the drivers to know that we understand because our father was a PHV driver. We were raised with our father always being there. And it would be nice to maintain some of the old fashion benefits like having the money every day. In those days, there was no app or payment gateway like PayPal.
So, for us we want to be influential as a transport provider towards a segment of the population which are not very engaged with some serious messages that TfL are pushing through in terms of emissions and other things. We want to engage with different audiences and put a spotlight on the industry and some of the serious messages that we hope we can communicate to the wider people.
we're going to be letting drivers use their destination filter up to 5 times a day.
So, the payment will be through transfers. Is that right?
Correct, daily pay outs means instant cash outs on cleared funds. So after a long day of working, drivers can get access to those earnings within 2 hours of 'cashing out'. There will be security checks in place, especially for new users, however for our regular riders funds will usually be cleared almost immediately.
Any cash payment available?
No.
What would you like to say to drivers reading your interview?
We want to say thank you to the hard working driver that are out there. We appreciate the work they are doing. We do not under estimate the work that they are doing. We understand the market and we are always willing to learn and understand their feedback. We can only build our app and business based on the drivers and customers' feedback. We have many employees who are ex drivers. So the company is built with the drivers.
We understand the challenges they face and we want to create something that fits them. We constantly want to develop the app based on their feedback. Over the next few months and next year, we will create a group where we allow drivers to come to share their feedback. And we will take their feedback on board. This app is going to be built for drivers and built by drivers. We are not naïve nor claim to know that we know everything. We are learning, relearning, revising and reinventing just like you.
Our values of hard work, dedication & community are the same. We are excited to be on this journey with you. Thank you for journeying with us and for your continued support. And finally thank you for driving for the greatest city in the world, our city, London!
Interview held over the phone on the 3rd December 2018. If you want to sign up with Miwhip, follow this link.