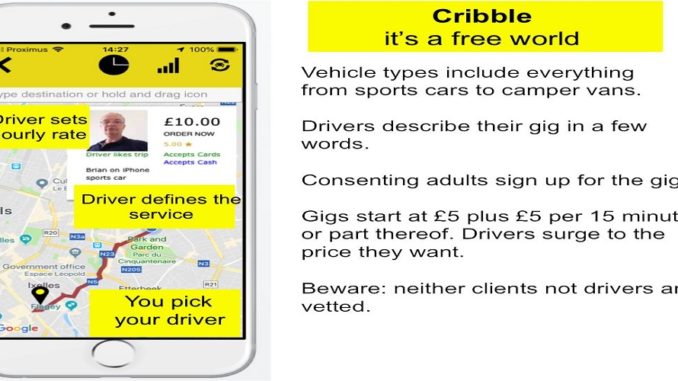 Cribble has just taken a hard blow from TfL via a notice issued on the 8th of March. Drivers registered with the app are told that they will be considered as "plying for hire" if they ever work via the app. The model in which drivers are displaying all their features (car, car's colour, number plate, model and so on) to riders prior to booking is what is considered as ply for hire. Following this statement, it seems that Cribble is still launching as Brian Haughan, its founder, tells us.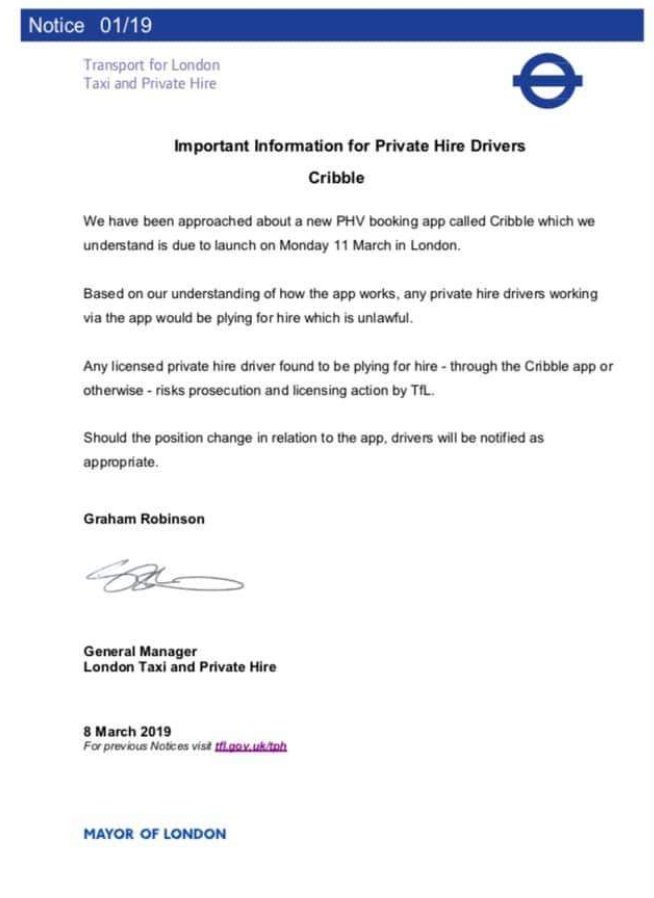 Interview held on 09//03/2019
Driver App London- How did you react to TfL notice regarding Cribble?

Brian Haughan- We were shocked to receive a notice from TfL at the eleventh hour given that we have been in discussions for almost 18 months. We tried to debate the issue by email but the tone of their response got stronger and stronger and they then took the unilateral action to contact the drivers via the unions. It was a case of a guilty verdict without trial which we find difficult to swallow when coming from a regulator/competitor.

DAP- Did you detail Cribble project to TfL when you applied for a licence?

Absolutely. We received a template from TfL and replied with a 56 page document explaining the overall architecture of the system and flows with screenshots and matching timestamps for the scenarios that they requested. We had a meeting with Graham Robinson, Michael Stack and 8 experts on 12 December 2018 to provide a live demo and answer their questions. It was a surreal experience because TfL didn't answer any of our questions and refused to opine even though they had all their experts at hand.

DAP- Did you apply as Cribble and its concept from the very beginning?

BH- From the beginning, Cribble had a distributor model where locally licensed operators would operate. In London, we have been working with Pro Transfers who already have a licence until 2022. Therefore, Pro Trasfers only had to add Cribble as a new operating model and new trading name.

In theory, according to the rules, TfL just needed to be informed. However, we sought their opinion due to the aggressive stance they have taken in the past. Seeking this input which was a joint effort between NXT24 and Pro Transfers. However, TfL has basically refused to deal directly with NHT24 and rarely responded to an email from us, insisting that TfL only deals with operators.

DAP- How do you explain this decision?

BH- It is beyond belief because TfL promised us a response in weeks rather than months. After a few weeks we were told that an external report was due. They then went silent so we suggested that if they had nothing of substance to say we would proceed to launch and requested the necessary licence updates which were implemented. In the end they took 12 weeks (3 months) from the meeting to come up with the bomb shell. I still can't believe that they can sit behind a closed door to debate with themselves and then announce a guilty verdict quoting a lost case as the proof in law. How can a bunch of experts take 12 weeks to come up with a decision and then claim it is a black and white case.

The crime that would supposedly be committed is "plying for hire". Uber recently won a case against a similar claim. Interestingly, they were not stopped from operating while the case was debated. The assertion from TfL is that Cribble is different because the passenger knows the vehicle colour, year and make. In the eyes of TfL calling a vehicle a 2015 black Toyota instead of an uberX somehow completely changes the case. It is beyond me to comprehend why it is not reasonable (and even necessary) to provide this description to a client before asking the client to commit to buying a ride. Its a complete nonsense.

DAP- What are your plans following this?

BH- At this point we can't trust the people or processes at TfL. They can't even set a deadline and work to it. Therefore, we have decided to launch an unregulated service using the same technology. The new service is much more general than a taxi app. Its a solution whereby drivers can define a gig that they will offer. We say that the drivers get paid to move things.

What they decide to move is up to them. We just provide the technical solution for the clients and the drivers to find each other and supply services that the other party wants. To help the process along the terms and conditions are very clear on the responsibility for the things that are moved. It is the responsibility of the client to take all the risks and obtain any necessary insurance to cover anything and everything that is moved.

DAP- Don't you think that drivers are at risk of sanctions if they use Cribble?

BH- TfL take a very hostile approach to the drivers and operators who are licensed by them with explicit threats that they will lose their jobs. However this doesn't affect the Cribble move service where consenting adults agree to have things moved. The things being moved will be moved by unlicensed drivers in unlicensed vehicles.

This is beyond the remit of TfL in the same way as the supervision of Tinder is not within the remit of TfL. Bad things could happen with people meeting via Apps but we are talking about adults doing adult things and taking adult risks. Quite frankly, TfL have nothing to say in this domain.