On the 3rd October 2020, TfL decided to not renew Ola's operator licence due to "a number of  failures that had potential public safety consequences". As Ola is about to appeal the decision, let's focus on the key factors that led to Ola London Licence to be stripped of.
History
3rd Sept 2019- Ola gets its TfL operator licence.
10th Dec 2019- Ola starts recruiting drivers in London.
31st Jan 2020 – Ola starts its marketing campaign in London.
10th Feb 2020- London launch.
3rd Oct 2020- TfL, after a review, decides to not renew Ola's operator licence.
A hastily launch
Ola launched in London in February 2020. Just before the Covid outbreak, the firm started a massive campaign that higlighted trained and reliable drivers. The PR strategy was to differentiate itself from Uber and other apps with its security features in place. No rider could jump in a wrong car, unlike the competition. The security code that riders need to give drivers to start a ride would prevent it.
However, if the campaign and message was clear and ready, it was not the case regarding the operational activities. Technically, there were lots of bugs reported by drivers that prevented them from accepting trips. And there were lots of payments issues, especially regarding the weekly minimum guaranteed*. A considerable number of drivers complained that they were not paid on time or not paid at all. Ola suspected fraud cases to put these payments on hold. A situation that showed an inefficient system to prevent fraud.
*The minimum guaranteed offered drivers a weekly income of £1000 as long as they stayed online for 50 to 60 hours.
A lack of experience in high regulated cities
Ola has never been confronted to such regulatory challenges. Its current markets, New Zealand, Australia and India do not present the same level of compliance. Even in its current UK cities, regulation is not as high and the leverage is more in Ola's favour. Small to medium size councils rarely go against such a big investor.
However, London and in particular TfL do not show such leniency when it comes to regulation. And by default, the requirements and standards are much tougher. It could be compared to a city like New York, Paris or Madrid where regulation is as challenging for App-based operators.
Indeed, ride-hailing apps have always had to face tougher barriers in these huge cities. Due to the existing stakes or taxi trade lobbies, every major ride-hailing app needs to be extremely careful and sharp if it wants to achieve any kind of sustainability. Ola is experiencing it at its expenses. And as result, new measures are taking place.
The road to salvation, to regain Ola London Licence
"At Ola, our core principle is to work closely, collaboratively and transparently with regulators such as TfL. We have been working with TfL during the review period and have sought to provide assurances and address the issues raised in an open and transparent manner. Ola will take the opportunity to appeal this decision and in doing so, our riders and drivers can rest assured that we will continue to operate as normal, providing safe and reliable mobility for London".
This is what Ola's UK managing director, Mark Rozendal said in a statement. Ola is decided to learn from its mistakes and start a new page in its relationship with TfL.
And it started a day after TfL decision. Lots of drivers were deactivated because of mismatchings between Ola's records and TfL records. These mismatches could have been in the name or the address. Others had their vehicles deactivated due to age limitation for the first time.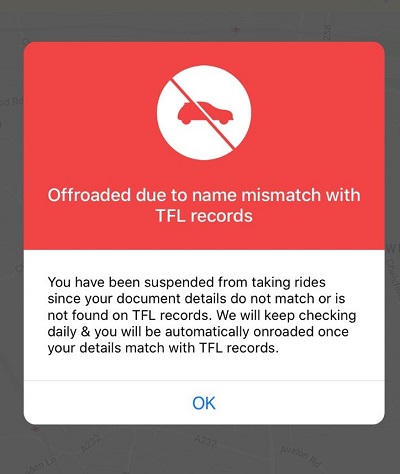 Clearly, new measures have been put in place to scrutinise every single driver's account and review it.
Ola is also highlithing any new TfL regulation in its communication and announcements. A new approach to rebuild its relationship with TfL and start the legal and PR manoeuvres to regain its London licence.
The recent Uber win against TfL before courts proved that it could be done. But it is not the only way to do it. Uber had to go that way because of its toxic relationship with TfL and the Mayor of London. Ola would be better off building a friendly approach and fully cooperate with the regulator as it seems to be doing. The ViaVan model, in which partnerships have been built with TfL, could be an example.