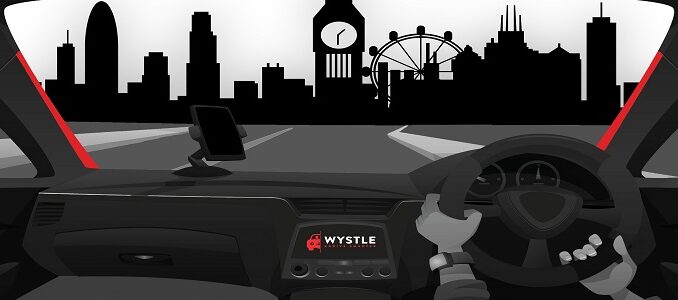 In the middle of the pandemic, a new ride-hailing app is stepping forward to compete in a dynamic London market. Wystle, a London-based company, should start operating in the capital in the next few weeks. Unkown to the wider public, Wystle London is about to claim its share of the pie. The ride-hailing firm told Driver App London why it believes in its sucess.
Born and bred in London
Wystle is the story of two entrepreneurs born and bred in London, Gary Wazir, Chief Executive Officer, and Harman Gabha, Founder of the company. The two men, who hold a track record in different businesses, are eager to compet with global established actors such as Uber and Bolt.
"We are the Capital's first born and bred ride-hailing app created by Londoners for Londoners. The city is part of our DNA and we know what makes our fellow city dwellers tick. We wanted to build not only an option for people to get around London but a whole experience for Londoners that offers everyone flexibility to their own schedule." said Gary Wazir.
Incentives for drivers
Wystle is going to offer one of the lowest commission fees in the capital, 13% on every ride. Would it have been before Uber brought up its Quest promotions, it would have been the lowest in the market. But it becomes the lowest commission fee set by default by a ride-hailing app in London. A minimum fare of £5 would give drivers £4.35 net as opposed to £3.75 with Uber and £4.25 with Bolt and Ola. Driving with Wystle will be commission free on the first month from launch.
One of the particularities of Wystle is its retail products programme called Wystle Rewards. Drivers have access to discounts at retailers such as Tesco, Asda or Pizza Hut once they drive at least 500 miles while on rides. This requirement has been temporarily lifted to help drivers during the Covid-19 pandemic.
Right now, drivers can access the Platinium level of rewards by referring another driver.
"As we have just finalised the rewards offerings, we thought it was essential to allow drivers to access these early to help support them and their families during these difficult times." said Gary Wazir, in a statement.
App features and pricing
There are in total 5 car categories, with a focus on high-end cars. Wystle is the standard category while Wystle + is to carry up to 6 passengers. Wystle Exec is for excutives cars and Wystle Elite is the equivalent of Uber Lux. There is one more category, Wystle Select. It goes beyond the Elite standards as prestigious cars such as Rolls Royce's and Bentley's are part of this category. It reminds everyone of what Miwhip tried to implement few years ago with its super cars.
The fare structure is similar to the market standards. Wystle standard pricing is £2.50 base fare, £1.25 per mile and £0.15 per minute. Waiting time of £0.25 per minute applies too after two minutes.
With Wystle, riders will be able to book drivers by the hour. Wystle Hire brings a chauffeuring feature that is new to ride-hailing apps in London. Here is the breakdown of the pricing.
| | Wystle standard category | Limitation |
| --- | --- | --- |
| 2 hours | £60 | 30 miles |
| 4 hours | £110 | 60 miles |
| 8 hours | £220 | 100 miles |
With black, red and white as main colours, here is the look of the Driver and Rider Apps:
The way ahead for Wystle London
No launching date has been announced yet but Wystle is "planning to launch the app to consumers in early December. This will of course be contingent on Covid-19 and the rules that London must follow but we are confident that we will have good download rates, especially as government regulations ease.", according to Gary Wazir.
Regarding its campaign approach, the company should focus on online and social media channels to raise awareness and build up customer sign ups.
The App will cover London from zones 1 to 6 at the start. It will also be present in all airports, including Luton and Stansted. The dispatch system will allocate jobs to the closest drivers. But "we will soon be adding virtual queue to our airport dispatch system".
Once it is safe to do so, PPE kits will be available for drivers to be collected from their offices.
"Our drivers are at the heart of what we do, without them we wouldn't exist. It is our job to make them feel as supported as possible – whether that's providing the lowest commission rate on the market or providing PPE to ensure their safety – we will do it. We are always open to thoughts and suggestions on how they feel their job could be elevated and improved." said Gary Wazir, in a message to drivers.
You would like to give Wystle London a go? Sign up from their website as a driver or rider.